As AI writing tools become more of a norm, finding the right tool for the job becomes difficult. Jasper and Copy AI are two such AI assistants we love. But then, one may ask, what's better for me – Jasper or Copy AI?
Undoubtedly, both Jasper AI and Copy AI offer similar features and functionalities and apparently serve the same purpose – copywriting. But considering the diversity in content creation today, can we rely upon these tools for all our writing requirements?
Or is one of them better than the other?
To me, Jasper is great; but is it for you too? Or maybe you need Copy AI for your tasks?
After being bothered by these questions, I tested both tools to see how they work and compare them against each other.
Here's what I observed regarding Jasper vs. Copy AI!
Jasper vs. Copy AI – Quick Verdict
Although both the tools boast similar features and serve the same user base, comparing Jasper vs. Copy AI clearly shows the former a winner.
According to my hands-on experience, Jasper gives more flexibility for creating personalized content, eliminating that robotic touch from the text. Also, Jasper's exclusive support for third-party apps, an intelligent image generator, and excellent long-form content support make it a comprehensive solution for all content development needs.
Copy AI, however, lacks those opportunities for pro writers. Nonetheless, it isn't bad – in fact, it works wonders for social media content creators and marketers who are often stuck at creating engaging post captions and email subject lines.
So, instead of being rivals, Jasper and Copy AI seem more of two separate tools aimed at different customer bases. Still, Jasper's inclusivity to serve both writers' types accordingly gives it an edge over Copy AI.
Jasper AI
Jasper, formerly known as Jarvis, currently rules the realm of AI copywriting. The tool exhibits smart writing features to create compelling content with the least user input.
Its particular strength is its grip on creating long-form content, thus becoming capable of serving as a personal writing assistant for professional writers.
Key features:
Includes Boss Mode to quickly create long-form write-ups with minimal input
Offers Surfer SEO, Copyscape, and Grammarly integration for swift content improvement and SEO optimization
Boasts Jasper Art – an AI-powered image generator
Supports 25+ languages
Offers 50+ templates
Pros
Perfect for creating all content forms
Includes smart idea generators
Produces unique content with zero plagiarism
Offers swift integration with other tools
Affordable pricing plans with a free trial
Cons
Includes no free version
Some options may overwhelm new users
Applies credit-based subscriptions that may annoy intensive users
Copy AI
Copy AI offers similar features as Jasper, yet it caused a stir in the copywriting world for its strengths.
The most exciting thing about Copy AI is its free-of-cost availability with minimal limitations. Unlike most premium tools, Copy AI doesn't limit any functionalities to free users. Instead, it caps the usage limit, which isn't a big deal for its users who work more on short-form content.
Key features:
Works great for creating short-form content
Offers over 90 tools and templates
Includes numerous content idea generators to overcome writer's block
Pros:
Creates the shortest form of content, like titles, captions, and email subject lines, with precision
Ensures swift content delivery
Offers a free version with no functionality restrictions
Cons:
Lacks plagiarism checker
Does not support third-party app integrations
Some users complain about the tool's instability
What Is Jasper? Who Should Use It?
Jasper AI, formerly known as Jarvis, is an AI-powered copywriting tool that excels at creating long-form content. Unlike most other tools, Jasper requires minimal, objective user input and creates content from scratch – thanks to its Boss Mode that produces long-form (2000+ words) content within minutes.
Moreover, it produces SEO-optimized, ready-to-publish content for bloggers that you can use with just a brief review – thanks to its tremendous support for valuable tools like Grammarly, Copyscape, and Surfer SEO.
Besides, the tool also includes idea generators to help you develop innovative topics.
Given its inclusive features, Jasper is a must-have tool for
Bloggers looking for a swift assistant for content rewriting and improvements
Content marketers stuck at creating engaging emails
Social media teams
Graphic designers and developers requiring quick content help for their designs
Creative writers looking for ideas to produce new content
Fiction writers wanting ideas to overcome writer's block
Startup businesses and entrepreneurs who need content help but cannot afford to hire copywriters for their sites
Freelance writers who need content help against tight deadlines
What Is Copy AI? Who Should Use It?
Copy AI is a quick content generator that serves better for creating short content. In addition, it offers tons of templates to help you come up with engaging texts and write-ups for your copywriting needs.
The tool uses AI to spin the provided information into an engaging text within the shortest possible words. So instead of serving as your writing assistant, it works more like a mentor teasing your creativity.
Given its adeptness at creating short-form content, Copy AI helps
Social media teams wanting engaging captions for their Facebook, TikTok, and Instagram posts.
Online store sellers looking for creative product descriptions
Email marketers requiring help with converting emails
Online advertisers seeking catchy texts for their ad campaigns
Business and brand developers in need of exciting taglines
Bloggers looking for creative content ideas
Digital content creators stuck on creating compelling video descriptions, meta descriptions, and headlines.
Jasper vs. Copy AI – Feature Comparison
AI technology
Both Jasper and Copy AI rely on OpenAI's GPT-3 (Generative Pre-trained Transformer 3) – an advanced machine learning model that produces text according to the provided input.
Both tools leverage this technology to ensure swift content delivery with maximum precision.
Winner: A tie!
Third-party app integration
Jasper offers seamless integration for the three major tools that most writers use today – Grammarly, Copyscape, and Surfer SEO.
It doesn't mean that you'll get the tools free with Jasper. But suppose you subscribe to them or have them already. In that case, you can use them together with Jasper to ensure your content remains plagiarism-free, has no language errors, and is perfectly optimized for SEO.
In addition, this integration saves time for rechecking the content separately against each tool.
Unfortunately, Copy AI doesn't offer such support, and you must review the generated content for grammatical errors, possible similarity, and optimization.
Winner: Jasper
Content templates
Default content templates with an AI tool empower the users to produce their desired content form with minimal tweaks.
Jasper offers over 50 content templates covering a range of content such as blog posts, emails, ads, social media, websites, videos, Google, and more, enabling you to get the desired write-up by selecting the suitable template.
As for Copy AI, it apparently wins here on the numbers, as it offers more than 90 different templates. But a detailed review of these templates indicated that almost all revolve around short-form content. Although it provides one for blog posts as well, it can merely handle up to 1000+ words.
So, Jasper wins here for supporting a more comprehensive range of content.
Winner: Jasper
Supported content lengths and formats
Both Copy AI and Jasper offer content writing and rewriting functionalities. But the length of content they support is a crucial parameter in the competition of Jasper vs. Copy AI.
Specifically, Copy AI seems more focused on short-form write-ups, such as emails, briefs, social media posts, and product descriptions. While it does offer a "Blog post wizard" for creating long posts, it merely provides a draft text that requires major tweaks from you – that too, in quite some time.
In contrast, Jasper appears more inclusive. Besides producing short-form content with dedicated templates, it has the "Boss Mode" that empowers users to create long-form content, such as blog posts, tutorials, and even eBooks.
Winner: Jasper
Supported languages
I first thought that this Jasper vs. Copy AI comparison would be a draw here because both tools claim to support more than 25 different languages.
That means you can use either to create and translate content into different languages precisely.
However, a closer look revealed that Jasper supports more language dialects, empowering the writers to add a native touch to the content.
Winner: Jasper
User-friendly apps
Both Jasper and Copy AI boast interactive app interfaces to facilitate users. But I liked Jasper's app layout more because of its customizability.
Though new users may find it overwhelming initially, once you get acquainted with it, you'll love how Jasper provides you with many options to produce your desired content. Also, it requires minimal input from your end, doing your work independently.
Copy AI also exhibits a friendly, minimalist app interface but requires too much user input. And still, you may have to tweak the results a lot.
So, in all, Jasper looks more user-friendly than Copy AI.
Winner: Jasper
Jasper vs. Copy AI – Which One Writes Better?
You may think of Jasper as the better AI tool by looking at how Jasper kept taking the lead vs. Copy AI on most parameters.
And you're not alone here because I felt the same, and upon testing both tools together, Jasper won the battle.
First, I tried to create a long post for my blog with Jasper's Boss Mode. For this, I provided the information about my post: title, a brief description, and other facts that I wanted in my post. It only took a few minutes to provide me with a 2500-word text.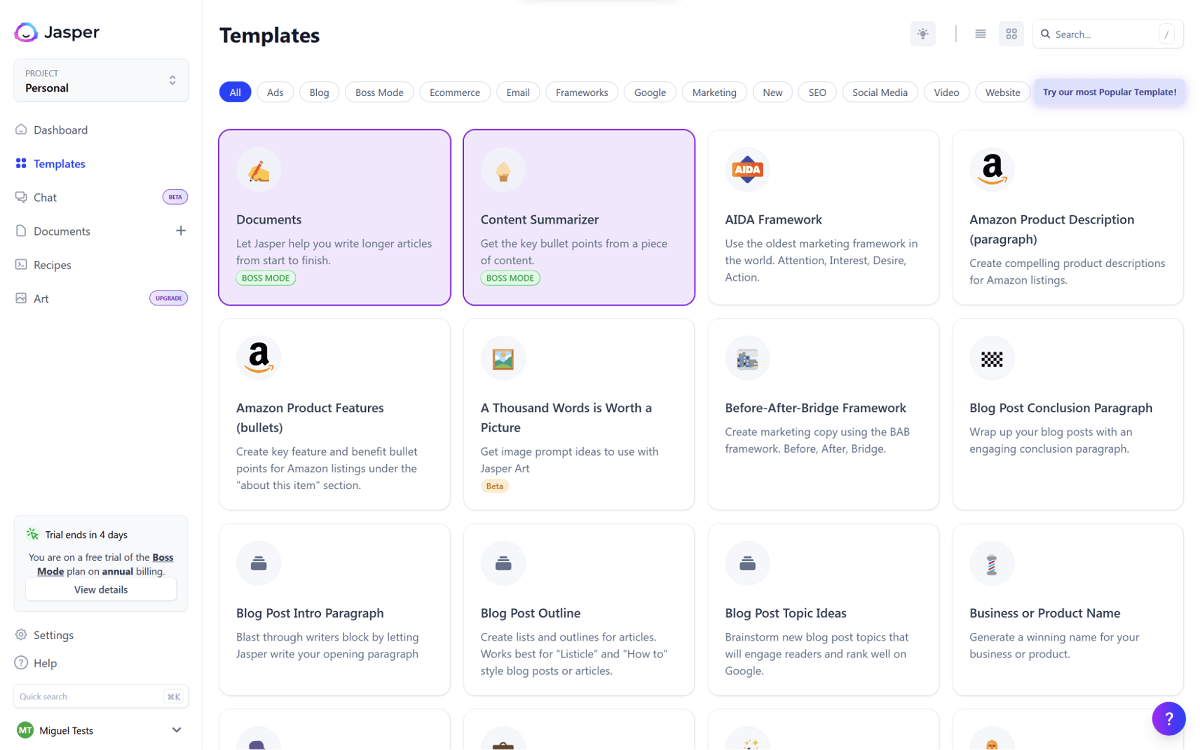 That was indeed quick and precise – I could publish it shortly after making a few tweaks here and there.
Next, I did the same with Copy AI's "One-Shot Blog Post." While it was helpful, the quality of the content wasn't as impressive as Jasper's.
Similarly, I used the respective templates for "Instagram posts" from both tools. Here, both Jasper and Copy AI went great.
So, while Copy AI works great for short-form content, its struggle with the long post made Jasper look more reliable.
Jasper vs. Copy AI Pricing Plans
Both Jasper and Copy AI offer dedicated subscription plans for different user categories.
If we compare their prices, Jasper's subscription starts at $24/month for 24,000 words, and its actual strength – the Boss Mode – costs $49/month for 50,000 words.
In contrast, Copy AI's Pro plan begins at $36 for unlimited words and 5 user seats.
Also, Copy AI offers an entirely free version with no feature limits; it only caps the monthly word limit at 2000 words, which isn't a hurdle for frequent short-form content creators.
Winner: Both, because Copy AI has a free version but offers fewer features than Jasper, which is worth the money.
Jasper vs. Copy AI – Which One Has Better Customer Support?
Since I have been using different AI tools for quite some time, I found both Jasper and Copy AI user-friendly. But anyone using these tools for the first time may require some assistance.
So, I stepped ahead to see if they offered customer support.
Jasper's support is awe-inspiring – it has detailed video tutorials to guide new users, a well-structured knowledge base, and a community of responsive 70,000+ members. Moreover, you can also contact them via email for any specific queries, and they'll get back to you within a few hours.
As for Copy AI, their support team is also accessible via messages, or you can reach out to them via their Official Facebook group. Furthermore, they also have set up a dedicated support center with training demos.
While they both claim similar features, Jasper takes an edge due to their highly responsive support team. For example, when I emailed them, I got the response within 5 hours, whereas Copy AI was a bit slow to respond, though they addressed my query well.
FAQs
Copy AI vs. Jasper – which one should I use?
Choosing one from Copy AI and Jasper mainly depends on your writing these needs, but if you need a tool to assist you with all writing forms, Jasper is your best bet. It can handle long and short-form content jobs well, whereas Copy AI is only beneficial for short-form content, giving little help for lengthy write-ups.
How does Jasper and Copy AI work?
Both Jasper and Copy AI use OpenAI GPT-3.5 learning model to produce text in response to the provided input. While they claim automated functioning, you must give some brief to guide the tool to write accordingly.
Is Jasper better than Copy AI?
Jasper AI provides better features than Copy AI. Boss Mode's support for lengthy write-ups, Jasper Art image generator, and integration with third-party apps like Surfer SEO are beneficial.
Is Copy AI better than Jasper?
Despite offering fewer features than Jasper, Copy AI is better for anyone starting with AI writing. Its free version is also helpful for new users, freelancers needing temporary help, and students on a budget.
Conclusion
Jasper and Copy AI are excellent tools for copywriters, helping them create engaging content quickly.
While both tools are useful in their own ways, comparing Jasper vs. Copy AI shows the former a winner. It has exciting options like Boss Mode and Jasper Art, which ensure you get complete, unique well-optimized content with supportive graphics.
Copy AI is also helpful, especially for short-form content creators like advertisers, digital marketers, and social media managers. But it isn't as inclusive and precise as Jasper.
So which one did you like? Do share your thoughts with me!