Are you stuck on finding a catchy topic for your next blog post? Or maybe you are just running with the clock to finish up your 10,000-word website copy within the next 24 hours. Then, here's a full-time writing assistant for you — Jasper AI, an intelligent AI-driven content writing tool!
Surprised? I felt the same when I first heard about it. So, I decided to try it and see if it worked (and I wasn't disappointed).
Of course, creating content is always a tedious job, even for the most avid copywriters. Yet, in today's internet world where the 'content is king,' it's inevitable for content and copywriters to ensure producing unique, quality content that drives visitors. Jasper AI aims to address this issue by facilitating content creators with AI-based content.
But is it really capable of handling such a crucial human job? Is AI-generated content as converting as human effort? This detailed, unbiased review of Jasper AI aims to answer these (and more) questions to help you decide about hiring this writing assistant!
Quick Summary Of My Jasper AI Review
Jasper AI is an artificial intelligence content creation and improvement tool that speeds up the work or completely replaces human copywriters. Although, despite all its accuracy, it still needs improvements to adopt that human touch which it currently lacks in its results. Yet, it still eases the burden of copywriters by providing them with unique content that can become perfect after a little tweak by a human editor.
Pros
AI-driven self-writing tool
Fast content creation without gibberish
Easy-to-use interface
Creates various web-based, business, and other content types
Offers SurferSEO integration
Cons
Lacks human writing touch
Content may reflect the repetition of ideas
Currently supports desktop systems only
Benefits of using Jasper AI
Comes in as a savior during writer's block
Provides endless excellent topic ideas for writing
Creates unique content for video scripts, blog posts, emails, or even Quora answers
Offers content improvement feature for better engagement
Produces multiple variations of content within the same context
Supports multiple languages (25+)
What Is Jasper AI?
Jasper AI (formerly known as Jarvis AI and Conversion AI) is a standalone copywriting facility to assist human writers. This intelligent tool leverages artificial intelligence to create different forms of content, from blog posts and web copies to emails or even academic essays and assignments.
The tool came into existence when three creative minds – Dave Rogenmoser, John Phillip Morgan, and Chris Hull – joined hands to develop a writing assistant to help overcome writer's block. Initially, it was named "Conversion.ai," which became "Jarvis.ai" due to the merger of two similar brands. Eventually, it became "Jasper.ai" in January 2022, bringing improved features, outstanding writing capabilities, and a unique brand!
Jasper AI uses the third generation Generative Pre-trained Transformer (GPT-3) technology to generate data. Powered by OpenAI, this machine learning model curates the information from the internet to generate automated text with precision.
You can think of it as a robot that automatically follows the input commands. As a user, you can configure it to create content on a given topic and then watch it write on your behalf with great precision and comprehension.
And no, it doesn't produce gibberish; instead, you get unique, well-written content on the given topic according to the template (more on that later). Often, you will find the result ready to publish without tweaks. (Though it's better if you do; I'll explain later why you should edit it!)
Jasper AI has an attractive UI and user-friendly options that let you input your content requirements. Once done, you can either write your own content and let Jasper improve it or let it do your work while you manage other tasks.
Besides writing, you can also use Jasper AI to create catchy images to complement your post or copy. Although it isn't a graphic design tool like Adobe Photoshop, it manages to create custom images.
Currently, Jasper supports over 25 different languages, so you can even trust it for improvement with translated content.
Who Should Use Jasper AI?
Broadly speaking, anyone needing a writing assistant can use the Jasper AI tool to handle their tasks. Yet, to give an idea, here I list some most obvious potential users for Jasper AI.
Social media managers who need catchy taglines and captions with their Instagram and Facebook posts.
Copywriters who need compelling website content quickly.
Web designers who want reference content accompanying their site designs.
Web developers and SEO managers who need catchy copies for their sites for quick optimization.
Startups and small businesses that cannot afford to hire quality copywriters.
Blog writers and publishers who need unique content in similar contexts without plagiarism.
Students in need of impressive essays and assignments against strict deadlines.
Writers in need of content ideas to overcome writer's block.
Jasper AI Free Trial – How To Try Jasper For Free
Jasper AI offers two different subscription plans for its users – the Starter plan for budget users and hobbyists and the Boss Mode for pro users. Both these plans come with a 5-day trial with a 100% money-back guarantee.
That means you can sign-up with Jasper AI with the trust that your money is safe. After submitting your billing details, you can start using the tool while enjoying your subscription plan's features. If you are unsatisfied with the tool, or don't need it anymore, you can easily have your money back within the initial 5 days of use.
To get the refund, simply write an email to Jasper's support team and ask for a refund. If you're eligible, you'll have the money returned to your account within a few hours.
But wait, there's more. Jasper AI also offers an additional 10,000 words to you for free. So, for example, if you sign up with the Starter plan ($24/month for 20,000 words), you get an additional 10,000 words loaded onto your account at no extra cost!
How To Use Jasper – A Step-by-Step Guide
When I first began with Jasper AI, I was amused by its simple and easy-to-use interface. It doesn't require you to be a tech geek to use the tool. Instead, anyone familiar with writing tools (like Hemingway or Grammarly) and who knows what to write can use Jasper without hassle.
Still, to make things easier here is a quick step-by-step guide.
1. Select the appropriate content template.
The first step to using Jasper is to choose a suitable content template according to your desired write-up. Thankfully, the tool offers numerous templates to generate content according to the desired type. So, you don't have to instruct it to write in a specific text style.
For example, I wanted help with a long article, so I chose "Long-form assistance" accordingly.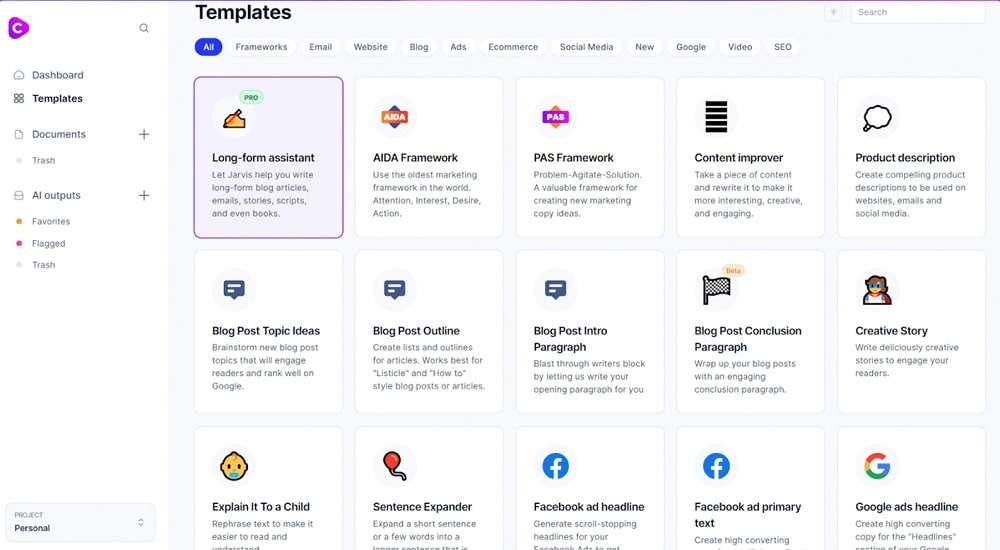 2. Input the relevant information and text tone.
After choosing the template, the next step is to guide Jasper about what to write. (Of course, it works independently, but it can't read your mind to know what you want to write.)
At this point, you just have to enter the relevant information about the topic without worrying about grammar or linguistic errors. But yes, ensure that you only type in the "relevant" information because that will direct Jasper to write accordingly.
Besides the data, you can also command Jasper AI to write in a specific tone (formal, casual, etc.) if you have such requirements.
3. Proceed to "generate" content
Once you input your requirements, sit back and watch Jasper do the trick. All it takes is clicking on the "Generate AI content" button to proceed. You will have your desired write-up ready for review within a few minutes.
You can use it right away after tweaking the content as you like. Alternatively, you can review it later without worrying about losing the content since Jasper AI automatically saves it.
Jasper AI Recipes
No, Jasper isn't a chef to share cooking hacks about utilizing your leftover bread. But yes, it knows the recipe to create catchy content within minutes. But for that, it requires all the ingredients from you, which, in the case of content, are keywords.
So, Jasper Recipes lets you give commands for the desired content type using the 'Boss Mode.' Precisely, you select the appropriate content type and enter the keywords about the general topic to write about, and then separate keywords for the introduction, body text, and conclusion sections. You can also add an extra ingredient (an additional keyword) for writing video descriptions (for garnishing, maybe?).
For example, since I wanted a long-form SEO-optimized blog post about generating traffic from Google, here's how I entered the relevant commands for Jasper.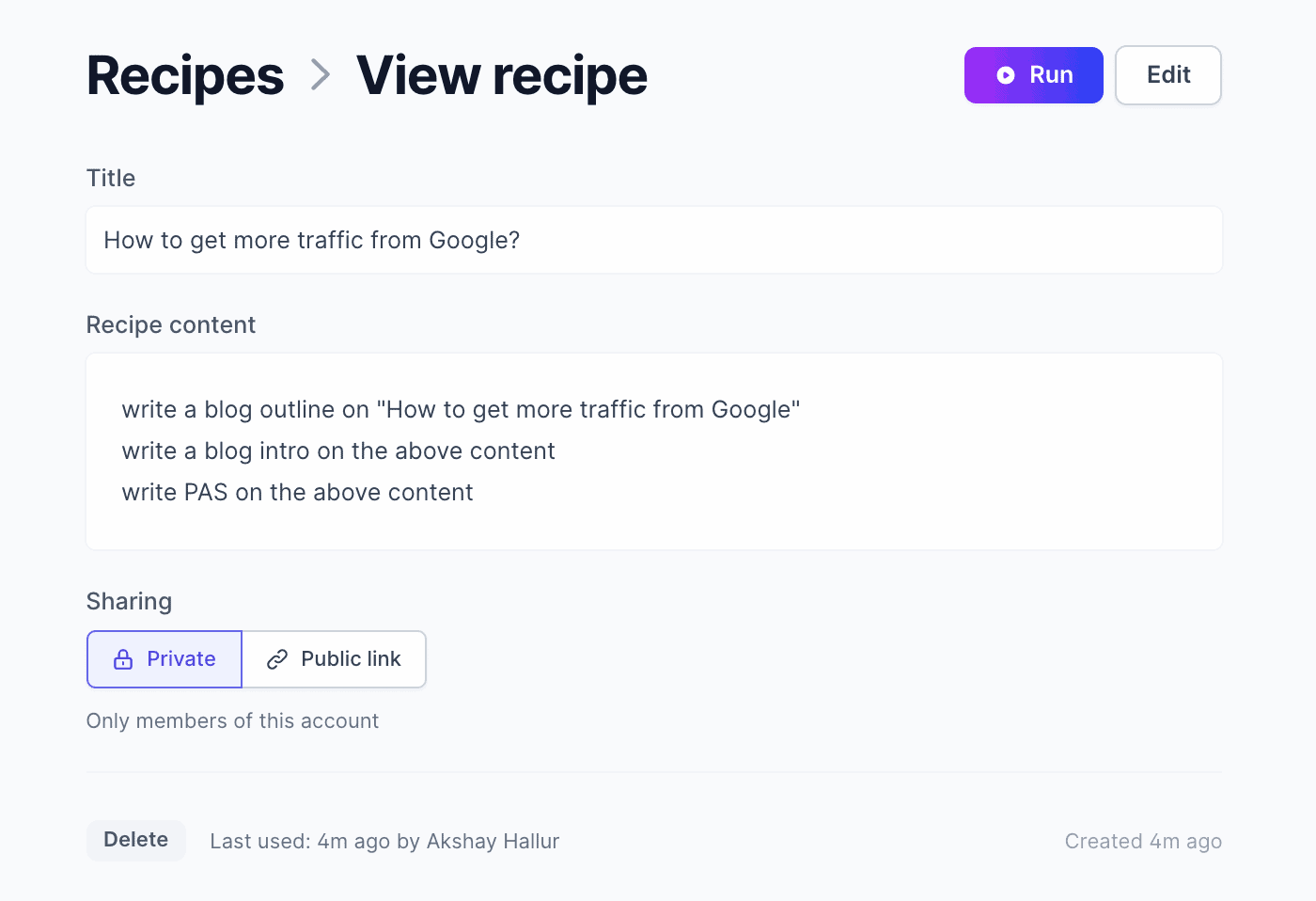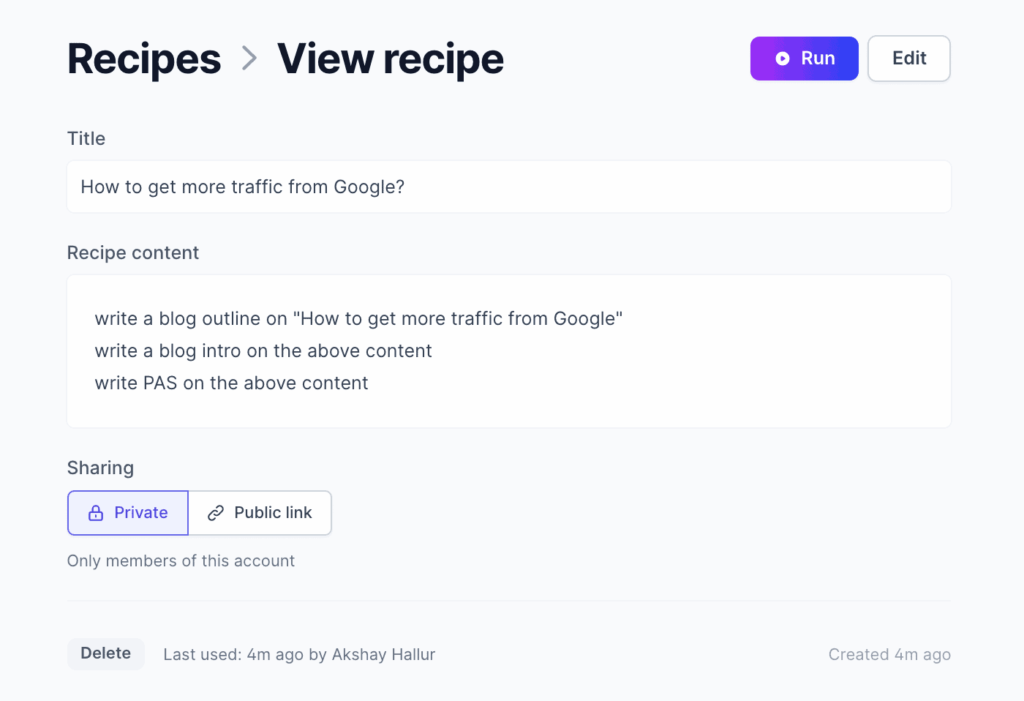 Once you share all the ingredients (keywords) with it, Jasper begins cooking (creating the content) for you according to your preferred recipe. Below are some of its many recipes that Jasper knows and cooks well.
New blog post
Rewriting existing content for improvement or expansion
Cold emails
Facebook ads
Video Script Blueprint with Show Notes
Product reviews
Landing page
Long-form content
Ebooks (non-fiction)
Blurbs
Sales letters
Food recipes
The Idea Factory (for generating new ideas)
While the list is vast, by now, you must have got an idea how adept Jasper is in cooking yummylicious recipes (of course, I'm talking about its content creation abilities!)
How Jasper AI Performs With Writing (Out of 10)
Jasper AI isn't just a writing robot but an intelligent writing assistant that keeps up the content quality with quantity. While its primary aim is to facilitate writers by expediting content creation, it also runs all text quality checks simultaneously to ensure quality results.
So, can it really match the level of precision of a human content editor? During my test with Jasper AI, here's what I observed.
Grammar And Spelling Check (8.5/10)
Jasper AI leverages the power of machine learning to produce near-natural content. Yet, since it curates content from online information, it realizes the need for a comprehensive grammar and language error check, missing out on which can render the entire content meaningless.
So, Jasper has a built-in grammar-checking tool to ensure the generated content is free from spelling errors, structural errors, and other grammatical issues.
During this review, I ran a Grammarly check against the Jasper content, and it scored 88 – impressive enough for a robot. Besides, I also went through it manually (which I always do) to spot any errors that Grammarly might have missed. And I was pleased to find the need for a few minor tweaks only to make it perfect for my post.
Plagiarism (8.5/10)
Alongside grammar checks, the Jasper AI tool also runs plagiarism checks to generate unique content. So even if you rewrite or rephrase a given paragraph, the results will still be unique.
After reading about this feature, I was a bit skeptical because even the most dedicated human copywriters cannot assure 100% plagiarism-free content in one go. (As an editor, it's my job to run plagiarism checks for the texts I edit, for which I trust Copyscape.)
So, after I got the write-up for my blog post, I checked the text with Copyscape, and it showed 18% plagiarism, which is evident given that Jasper curates data from the existing information online.
Accuracy (7.5/10)
The main issue that AI writing tools need to work on is content accuracy. A single off-topic or misquoted sentence/phrase is enough to expose the AI content creator behind it. Can Jasper AI ensure content accuracy? I was curious to find the answer to it.
While testing the tool, I was first impressed by the results I got for my blog post regarding traffic generation from Google. The paragraphs depicted high precision, including only a few mistakes.
But I knew my topic was too narrow for such precision, so I tested Jasper again with a broader topic regarding the effect of dates on migraine. Ironically, the content I got was not confined to date (the fruit) only, showing funny content.
So, I observed that the level of content accuracy with Jasper AI depends on the commands you enter. As I explained above, the tool allows the users to give clear instructions (commands) via text recipes. Thus, the onus of content precision mainly comes down to the users – the clearer the commands, the more accurate the results will be.
Jasper AI Key Features
Jasper AI isn't the only smart writing tool in the market today (I'll briefly review those Jasper AI alternatives later.) Yet, the biggest plus with Jasper that helped it take the lead among all robot writing tools is its feature-rich service.
The tool has many user-friendly options, empowering the users to generate, modify, or improve a given content. While describing every option in this review is difficult, I want to talk about a few key features that make Jasper AI worth trying for all writers.
Templates
As I explained above, Jasper's strength lies in the preset templates to manage different writing formats. You don't need to worry about improper content formatting or tone –select the appropriate template and let Jasper handle the rest.
I was pleased to see the variations in the Jasper Templates, which show the creators have tried their best to include almost every content style and meet the needs of the different content creators. Here I list a few templates to give you an idea about Jasper's creativity.
Creative Story – let's story and creative writers overcome writer's block by working on their behalf.
Text Summarizer – presents a summary of the text mentioning all key points.
Blog post introduction / Blog post conclusion – separate templates for writing introductory and conclusion sections for the given post.
Blog post outline – curates a compelling outline for the given blog post.
Content Improver – rewrites a given piece of content, making it more engaging.
Blog post topic ideas – dedicated template to present new ideas for creating engaging posts.
Video topic ideas – gives ideas to create engaging videos.
Video Script outline – creates an outline for descriptive or listicle-style videos
Explain it to a child – while it's also a rewriting template, it simplifies the given content to make it easy to understand even for children. So it's a exciting tool for creating stuff for young readers.
Besides, you can find dedicated templates to create social media posts, video captions, video titles, SEO posts' title tags and meta descriptions, Quora answers, product reviews, and Amazon descriptions. In fact, there's so much more that I can't list them all here. But, in brief, you'll hardly find a template missing here to fit your desired content style.
Boss Mode
As the term implies, the "Boss Mode" is the core of Jasper's power that lets you create content like a boss. It's an inclusive pro feature offering fast content creation with enhanced precision and creativity – that too, with minimal input.
And you don't remain stuck at creating short write-ups only. Instead, Boss Mode empowers you to write long-form content such as how-to posts and ebooks.
Jasper's Boss Mode leverages the underlying AI technology to create 100% original, unique, and catchy SEO-optimized content. To achieve these goals, the Boss mode comes with,
Built-in grammar and spelling check with Grammarly
Copyscape integration for fast plagiarism-checks
SurferSEO integration
Accurate content creation without losing context. For this, the tool keeps reading up to the last 3000 characters before moving on.
Numerous copywriting skills to achieve the desired tone of content
Multiple language support for quick translation
Yes, it all sounds too good to be true, but after testing the tool myself, I could experience all these features when writing my blog post, and I could finish it up quickly. All it takes is to open the Jasper Editor, enter the Commands for your content recipe, and watch the magic happen.
But yes, you need to upgrade your subscription to enjoy all these pro benefits.
Jasper Art
What's the next big trouble for writers to create compelling content besides the text? For me, it's always about finding appropriate images to accompany my posts because getting the right pictures without copyright issues is quite tricky.
Perhaps, Jasper AI knows this issue that I and many other writers face. So, it also empowers writers to create their own images without fearing licensing policies via its Jasper Art feature.
It isn't a separate tool but an integrated utility with a Jasper subscription. Jasper launched this AI image generator in August 2022, aiming to facilitate writers with graphic designing help. The tool's layout is pretty simple, even for naïve designers like me.
It merely requires you to enter the description for the image you want (just like you enter commands for Jasper to write the text for you). Then, within seconds, Jasper AI gives you a unique image, setting you free from the hassle of getting custom images or buying licenses. Just make sure you mention all necessary details so the tool can create a precise image for you.
Apart from creating unique images, Jasper Art allows you to create illustrations and realistic portraits within seconds. Once created, you can export the images at high resolution (up to 2048×2048) without watermarks. You can get all these benefits for $20/month without any image credit limits.
Languages
Content creation? Check!
Grammar and spelling edits? Check!
Zero plagiarism? Check!
Supporting images? Check!
What else would a copywriter or content editor need during work – translating the post into other languages, maybe?
But won't it be costly to hire a service provider just to translate your own work? Of course, it is – and that's where Jasper AI saves you.
The tool knows over 25 different popular languages, thus enabling you to create or translate the content within the flash of an eye. No need to hire a translator or a translation firm to make your work understandable for your readers in the other part of the world!
For now, the following are the languages that Jasper AI can read to produce content in these languages with different dialects.
English
German
Dutch
Chinese
French
Greek
Bulgarian
Danish
Finnish
Estonian
Italian
Japanese
Portuguese
Russian
Spanish
Polish
Slovak
Hungarian
Lithuanian
Czech
Romanian
Swedish
Slovenian
To test the tool, I entered an excerpt from one of my English posts in Jasper's editor and commanded it to translate the text into Lithuanian. Here's what I got (isn't it precise enough?)
SurferSEO integration
SurferSEO has been the go-to utility for web writers to optimize their content for better rankings. But how would you optimize something that you haven't written yourself? Perhaps, that's the biggest drawback with most other content-writing tools available in the market.
Nonetheless, Jasper AI addresses this matter by offering seamless SurferSEO integration. Introduced in 2021, this feature empowers web writers to create SEO-optimized web copies, blog posts, product descriptions, and other content without hassle.
Of course, taking advantage of this feature requires you to already have a SurferSEO. (It doesn't come free with Jasper AI.) But if you have it, then you just have to enable this feature within the Jasper AI editor, which produces optimized content for you.
Jasper for business
After reading this review until this point, you must have realized the real power of Jasper AI. And the next question popping up in your mind, especially if you're a team of writers or run a small business, will be about using this tool for your whole team. Isn't it?
Like Grammarly, Copyscape, and other content-related tools, Jasper AI offers businesses a dedicated subscription plan. Using this plan empowers you to create custom templates for personalized marketing campaigns, add more members to your team using the tool, and choose the word credits per your requirements.
With such a unified content-writing assistant by your side, you will surely notice increased productivity and creativity within your marketing team.
Chrome browser extension
Having a handy browser extension, especially for Chrome, is what I like the most about any software. Things become more manageable when I can read, edit, fix, or copy/paste things right within my browser.
So, I went ahead to see if I could integrate Jasper into my Chrome browser and was pleased to find a dedicated extension.
It's available on their website, so you can go ahead and download it for your browser to enjoy all the benefits. This Chrome extension support also empowers you to use Jasper across multiple devices as long you have Chrome running on them.
Customer Support For Jasper AI Users
While I have used (and still use) numerous tools while working, I still face various moments where I need to contact the software's customer help team. And it must not be a case of me only – every internet user, regardless of the field or niche, must contact the support team for any given tool at least once a year.
So, whenever I review or choose to use a new tool, I look for the available customer support options because I believe a prompt support system shows the vigilance and care from the vendors for their customers.
With this in mind, I browsed through the Jasper AI website to see if I could contact their support team. Interestingly (rather appreciably), Jasper offers multiple ways to seek help regarding the tool.
Knowledge Center – a dedicated support center, featuring detailed tutorials about Jasper AI, billing information, and other support articles.
Bootcamp – Detailed training sessions from Jasper experts for new users.
Email – The email support team at "[email protected]" is available for all, with a response time of 4 to 8 hours. I emailed their team to test this claim and could hear back within 5 hours.
Facebook Group – Jasper leverages the popularity of Facebook Groups to help their users by offering instant support via their Facebook community Group. You can join the Group any time, post your issues, and help others seeking assistance with various matters.
Plans And Pricing
Jasper AI aims to serve a huge customer base (perhaps everyone involved in writing or needing content support). Hence, it offers multiple subscription plans for individual writers, web development/SEO and other professionals, small businesses, or writing teams.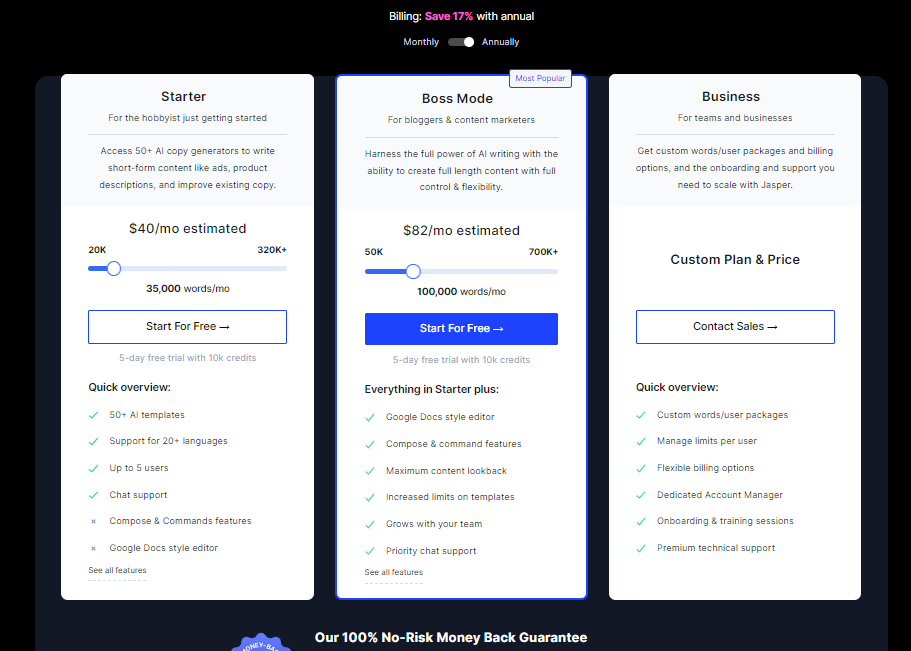 Specifically, Jasper offers three different subscription plans, which include,
Starter – It's a cheap pricing plan for new writers, budget users, students, or hobbyists. The plan offers various word limits, from 20,000 words at $20/month to $332/month for 320,000 words. Users who wish to go beyond that using the same plan may have to contact Jasper support to get a custom quote. Apart from the desired word limit, this plan offers support for up to 5 users, over 20 languages, and more than 50 AI templates.
Boss Mode – This is the one I recommend most to all Jasper users because of its benefits (explained earlier in this review). Boss Mode pricing starts from $49/month for 50,000 words and supports up to 700,000 words for $500/month. Users with a hefty Jasper usage can also go beyond the 700K words plan by getting a custom quote from Jasper's support team.
Business – As the name shows, this pricing plan typically aims at service business users, who can reach out to their support team to get custom quotes.
The "Starter" and "Boss Mode' subscription plans come with a 5-day trial and a no-risk money-back guarantee. So, if you find Jasper AI not meeting your needs within the initial 5 days after signing up, reach out to their support team and get your money back – simple as that!
Jasper AI Alternatives
Jasper AI isn't the only AI-powered writing tool available today. Many other alternatives are also in the market, offering lucrative features. However, comparing Jasper AI with the rest shows the former taking the lead due to its comprehensive features.
To simplify things and help you decide better, here's a quick comparison of Jasper AI with some of its alternatives.
Jasper AI vs. Copysmith
Copysmith is a dedicated writing robot aimed at large businesses and marketing teams, especially eCommerce. Its core features include a user-friendly interface with consolidated billing, project and file sharing options, support for third-party apps like Google Ads and Shopify, and multi-user access for quick review and editing within the teams.
While these features bring Copysmith close enough to Jasper, the latter wins due to its user-friendly features for individual users and better results, especially with long-form content. Also, Copysmith lacks the robust features available with Jasper's Boss Mode.
Jasper AI vs. Rytr
Like Jasper, Rytr is also an AI-powered copywriting assistant for content creators. It also offers impressive features to create different forms of web content, from web copies to blog posts and product descriptions.
However, Rytr lacks the essential add-ons available with Jasper, limiting overall productivity. Some features missing with Rytr include a lack of third-party app integration, no Google Docs support, and no workflow management.
Similarly, other smart writing robots like Copy AI, Anyword, and Writesonic also lack numerous core features, especially third-party app support, which limits their usefulness compared to Jasper. The following table shows a detailed comparison of Jasper AI with its alternatives.
Read more: Jasper vs Copy AI – Which One Is Better?
FAQs
How much is Jasper AI?
Jasper AI comes with different pricing plans supporting varying word limits. Generally, the "Starter" plan for budget users starts at $24/month (for 20,000 words), whereas the "Boss Mode" subscription begins at $49/month (50,000 words).
Does Jasper AI offer a free trial?
Yes. Jasper offers a 5-day free trial with a 100% money-back guarantee on its "Starter" and "Boss Mode" subscription plans.
What languages does Jasper AI support?
Jasper AI supports more than 20 popular languages, including French, German, Spanish, Portuguese, Russian, and more. It can read texts in these languages and produce translated outputs with the precision of dialects.
Is there a money-back guarantee?
Yes, Jasper AI offers a 100% money-back guarantee if claimed within the first five days of subscription. 
Is the content created with Jasper AI plagiarized?
Not really. Jasper AI produces unique content using the underlying machine learning model. Nonetheless, it also supports Copyscape integration to fix any plagiarized sentences that may appear incidentally.
Can Jasper AI write a book?
Jasper AI's Boss Mode supports writing long-form content (2000+ words), including listicles, how-to posts, and eBooks. 
What technology does Jasper use?
Jasper AI uses OpenAI's GPT-3 algorithm – a dedicated neural network machine learning model to produce original content curated from the information available online.
Conclusion
Jasper AI is an excellent writing tool that can assist when you don't feel like writing. Of course, it can't match human precision yet, but it can still produce quality content that you can tweak later to give it a human touch.
Besides writing, Jasper also supports content translation, rephrasing, and improvements, thus helping the editors in their jobs. In addition, the marketing features, like topic suggestions and support for creating emails, social media posts, and video scripts, further help generate swift marketing campaigns.
But remember, Jasper isn't a human replacement. Instead, it's an intelligent assistant that expedites tedious writing activities. So, the key to extracting maximum benefits from Jasper AI is to give precise inputs. You then have to merely go through the results, tweak the content accordingly, and get your work done quickly!
Curious to know if Jasper is the right fit for you? Claim Jasper's free trial here and see the magic yourself! (And don't worry about losing your job – it isn't going to replace human copywriters anytime soon! 😊 )